These days, a home's total square feet area is declining while home prices are up. The cost to build a home in 2019 averages about half a million dollars, but the square footage is now the lowest since 2001, at around 2,500 square feet. 
This tells us that homeowners are trying to do more with less. From a multi-family plan to home plans with extensions as you grow, the most popular house plans this year are functional and economical, without sacrificing those luxurious creature comforts. 
Take your cues from these home plans and adapt them to your family.  
Ranking 2022's Most Popular House Plans
Before looking at the most popular house plans right now, consider many factors that influence whether a home design is right for you. 
Some people, for example, want to know the cheapest or most economical house to build. Others want to keep things simple and are looking for quick and easy-to-build floor plans.
Quite a few architectural styles can fulfill your needs, so we've included these floor plans if you have a specific requirement in mind. 
Easiest to Build
An easy-to-build house plan should be simple in its parts, planning, and "assembly." This doesn't mean you don't need technical or specialized help, such as expert plumbing and electrical installations. 
However, with the help of a small crew, you could just easily build it yourself. Easy-to-build house plans are not fussy because they don't include complex excavations for basements. They also rarely include more than one floor — unless you want these features for some extra sq ft area. 
The A-frame is an incredibly easy design to build because, in its most essential form, the layout has no other levels. All you need are the beams that sit against the two roof sides — which are also the walls in this house plan.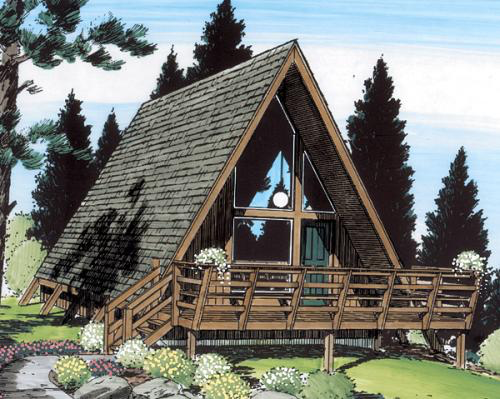 A log cabin is another house plan design that is easy to build. Again, like the A-frame, you can get more sophisticated with your sq ft use, such as adding things like a second floor, a bonus room, or a large deck for outdoor living. 
But its simplest form is low on sq ft and has no frills.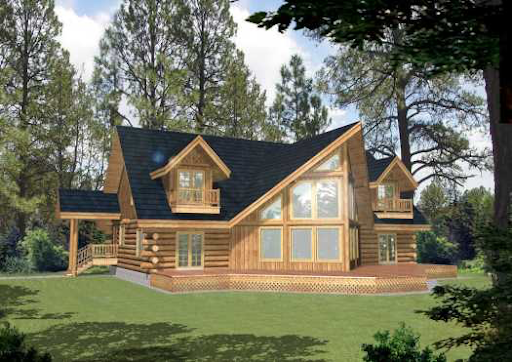 Cheapest to Build
The smaller a dwelling, the cheaper it is to build. However, sq ft area is not the only indicator of cost. For example, you could opt for a compact home design, but amp up your bottom line if you go for high-priced interior decor and upgrades. 
The "small home" is a layout where all your sq ft area rests on the main floor. Even a cottage-style home can be a small home if it has a compact design. Even if you have a larger lot, you can opt for a small home and your costs will be lean.
However, the "small" designation depends on the designs. For example, if you get a custom floor plan from architects, you could very easily keep a low sq ft area and still include up to 2 bedrooms, with a master suite, and 2 full bathrooms.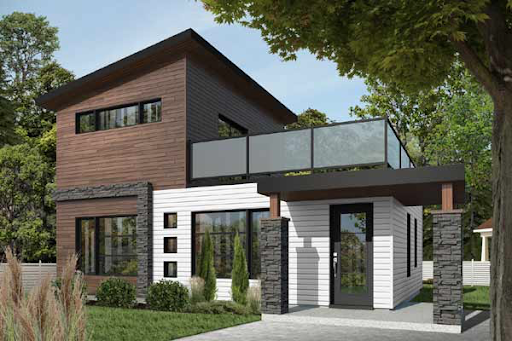 Speaking of two-bedroom homes, opting for a two-bedroom home can keep your costs low but still serve as a multi-family dwelling. 
Again, it depends on what the designers do with the space they're given. For example, if they use an open floor concept, you can enjoy a more spacious living arrangement but stay low on costs.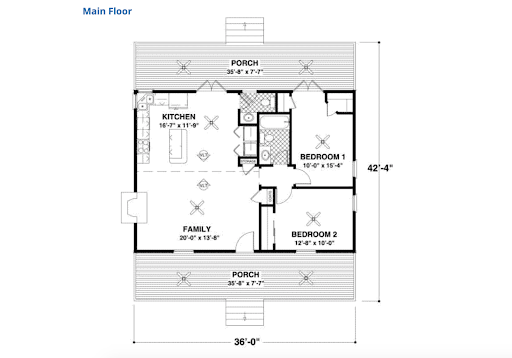 Most Classic Design
Classical designs are never going to go away. They're well-loved and stand as a hallmark in everyone's mind of a new and ideal starter home for families. Perhaps one reason these plans still stand today is that they were around during early settler history across the country. 
Of course, today's designs are updated or "revived" and adapted to meet modern-day needs and creature comforts.   
The classic colonial floor plan has iconic features such as dormer windows, double chimneys, and a symmetrical design. In fact, even home builders and architectural firms selling house plans will adapt the classic colonial style for their newest lot releases.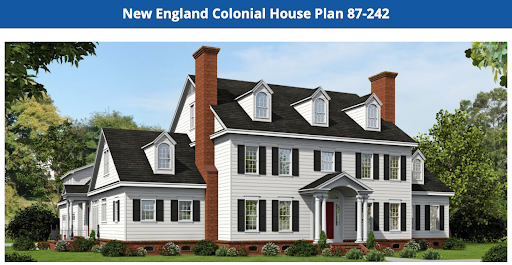 The Hampton home is a unique house plan that is made for lots with large width and depth. Outdoor living is often part of the novelty of these plans and the sq ft can vary. Hampton designs are perfect for entertaining, often featuring a guest area or bonus room. 
However, they're also very sturdy against East coast storms and prevailing winds — which is where you can usually find these home plans.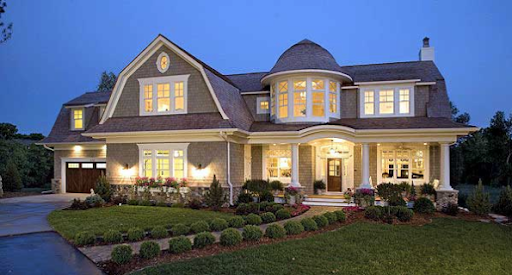 Most Modern Exteriors
Quite a few house plan designs are updated to include features like a home office, guest quarters, open floor layout, dens, bonus rooms, and more. But the exteriors are really where you, as a homeowner, can make an impact.  
The Contemporary style plan features smooth, clean, and elegant lines in the exterior design. They can feature flat or sloping roofs, but usually include a mixture of building elements like:
Vinyl siding

Wood

Glass

Wrought iron

Stone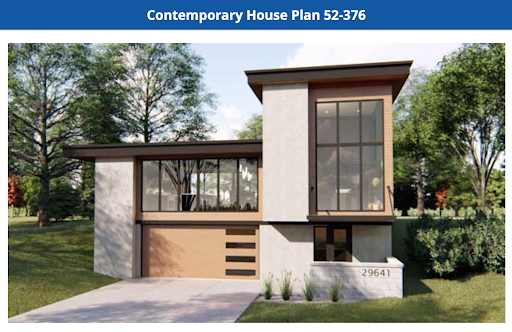 The "Modern" plan is a new way to blend several styles together for a unique look. Many classic styles, such as the Craftsman or the Farmhouse, can be updated to reflect these modern sensibilities.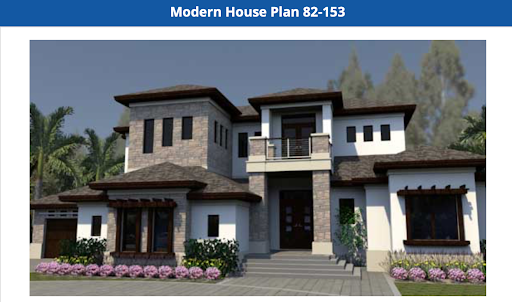 How to Pick the Best House Layout For Your Family
The most popular styles for a new home should also reflect your family's living style. When considering the best layout for a house, you should be looking at four key aspects beyond just the sq ft size. 
1) Bedrooms, Bathrooms, and Location
Think of it this way: if you don't have enough bedrooms and bathrooms, and they're not strategically located in the house's plan, every morning could be a potential for conflict. 
If you have a small family now but you plan to grow by three, where will your kids sleep, and who will share what? 
If you know you need two full baths, will your guests get to use a powder room — or will they use one of your full bathrooms? And are these located on the upper levels? If so, they will have to enter a more intimate part of your home. So, at least one of them should be located on the main floor.
These questions will determine whether a layout is your first choice — or a non-contender. 
2) Open Concept is Best
Whether you stick to a two-level house plan, a split bedroom layout plan, or a modern ranch style plan, make sure that you have an open concept design. 
Open plan designs don't have any doors between rooms on the main level. Instead, the design features a natural flow — of light and air circulation — throughout the house. 
One can go from the living room to the kitchen to the family room seamlessly. It also makes your space seem larger and taller, which is great if you want to keep to a tight sq ft area. 
3) Walk-out Basement, In-Ground, or Neither?
Some people want a plan with a basement while others don't want the added pressure of finishing that added sq ft area. 
However, there are a few more options at your disposal. If your lot is on a slope or a hill, you may have the perfect spot for a walk-out basement plan. On the other hand, an in-ground basement can be a great storage place and can give your house an added spot for recreation.
4) Don't Forget Those "Add-On" Rooms
When you search on a site selling house plans, look for a design that includes add-on rooms.  These are optional spaces like mudrooms or butler's passages. Add-on spaces give a new house the functionality a family needs. You should consider what your family's practices are on a consistent basis. 
For example, suppose all your laundry sits upstairs in everyone's bedrooms. In that case, it might be smart to keep the laundry room upstairs, beside the bedrooms rather than downstairs by the garage area.
10 Popular House Plans in 2022
The next 10 houses are the most popular house plans this year. These are a collection of different styles of houses, and each architectural plan varies in sq ft area and features. 
Colonial-style homes will continue to prevail among the most coveted type of plans in the country. If two or three fireplaces, brick or wood facades, and two stories feature prominently in your family's new home aspirations, you're not alone.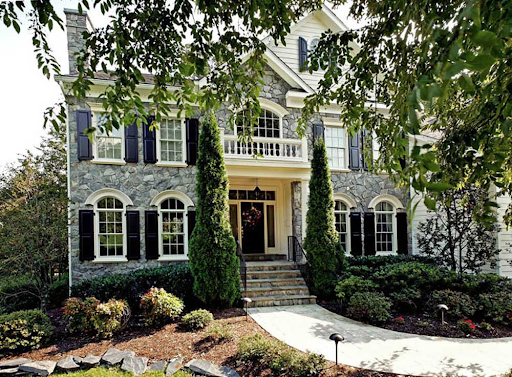 Cape Cod homes were first built in the 1600s. If their cozy and compact exteriors look familiar, you're right. Cape Cod homes are found on the Atlantic coast, and they have their origins in old British cottages on the southern coast.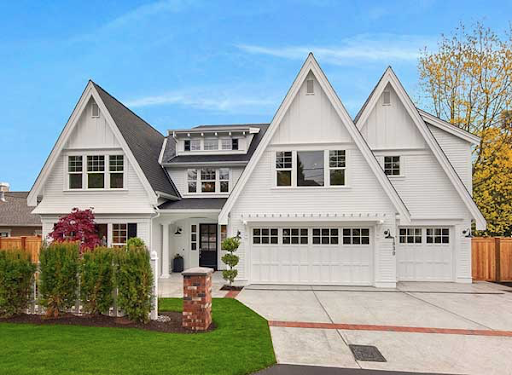 These homes have steep roofs and large chimneys. Some designs might also feature dormer windows, which are common for colonial homes. 
3) Waterfront with a Modern Twist
Waterfront homes may seem like a very "niche" house plan. However, an increasing number of people are taking advantage of the "vacation"-style architecture for their main property.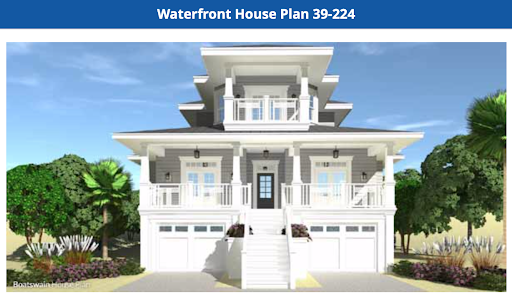 One of the main characteristics of a waterfront plan is its walk-out basement. It also features a combination of wood and vinyl siding, plenty of decks, and wrap-around porches. If you live on land with elevation, this could be the perfect design for your family. 
4) Modern Farmhouse
The "modern" farmhouse has inflections of Victorian and Colonial architecture, but this design prefers function to flourish. 
There's an emphasis on the "agrarian" lifestyle, which makes use of every feature. For example, porches could be considered extra sq ft area because they act as a transition between the indoors and outdoors.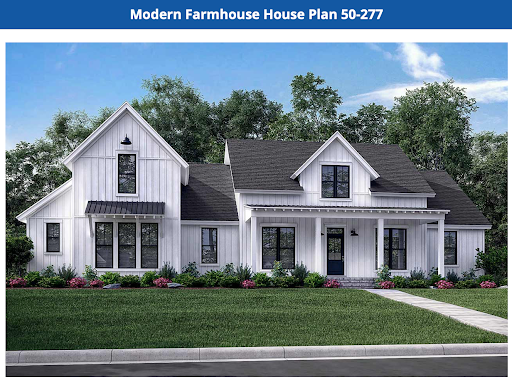 The modern farmhouse mixes the original farmhouse design's classic features with current elements like large glass windows, a "shabby chic" wooden exterior, glossy accents, a contrast between dark and light elements, and clean lines. 
5) 2 Bedroom Starter Homes
Two-bedroom "starter" homes are not just for singles or newlyweds. There are quite a few empty nesters or families who want to downsize their current lifestyle and choose the two-bedroom house.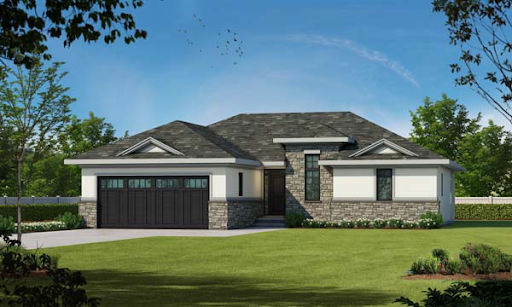 There's no one architectural style, so you can design and decorate based on your sensibilities. Suppose you want to go for a modern, cottage blend. In that case, you might consider keeping the plan to one level, with some additional space for extensions and add-ons (such as a sunroom) in the future.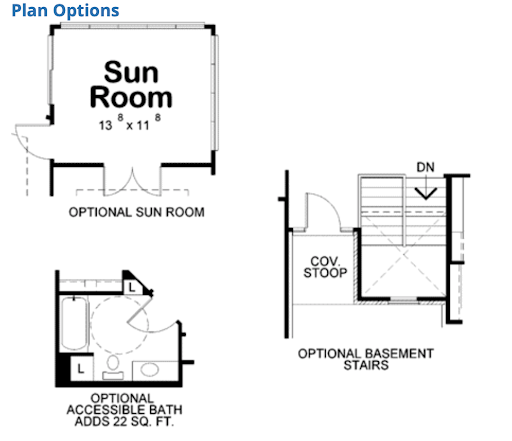 6) The L-Shape with a Contemporary Design
The L-shaped house is a fantastic example of clean and innovative design. Every part of the house is connected and accessible. At the same time, the backyard area is kept private and secluded by the smaller "arm" of the "L" shape.
You can go for any kind of architectural style, but the contemporary home is perfect for this adaptable layout design. It naturally features sloping roofs, clean lines, and mixed exterior building elements that enhance the natural "L" shape.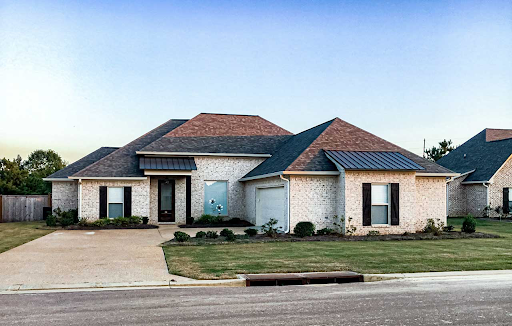 7) The Luxury A-Frame
It's not just millennials who love the A-frame design. The chic, almost Scandinavian look of A-frames is making them increasingly attractive to families who want to live a more affordable, sustainable, adventurous lifestyle. 
However, the A-frame's sloping walls make storage and room separation a challenge. That's why many families look for a more accommodating A-frame layout to adapt to everyday living. This increases the sq ft area but also allows you to create bedrooms and bathrooms.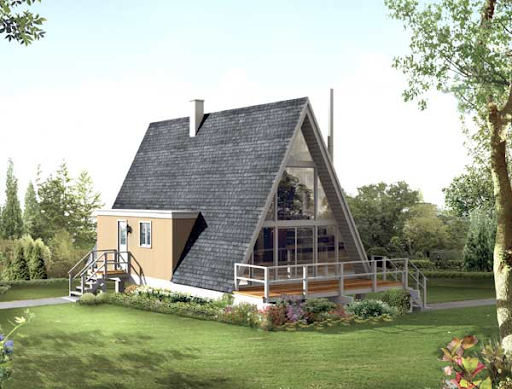 8) Mid-Century Modern
Mid-century modern architecture was alive and thriving from the 1940s to the 1980s. The style focuses on using large glass windows, clean, smooth, and rectangular lines, flat planes, and the integration of nature.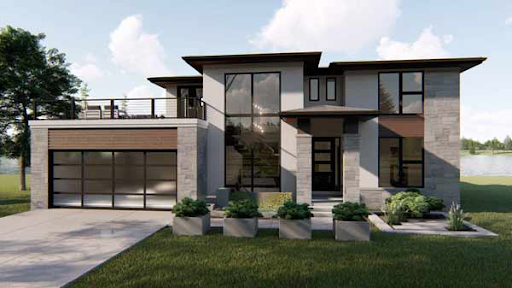 9) Maximalism with Prairie-Style Homes
The Midwest-inspired prairie-style home is all about practicality and exudes a down-to-earth modesty. However, it's the details where designers and architects, like the originator, Frank Lloyd Wright, can make their mark. 
Even though the minimalist design has been in vogue, maximalism is making a comeback. So you can opt for the long, flat roofs, rows of windows, horizontal lines, and an emphasis on an organic, "Zen"-like a garden, while emphasizing luxury in exterior design materials.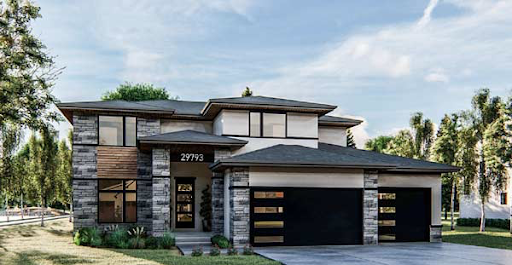 10) Modern Ranch
Ranch-style homes are popping up all over the country — with a modern twist. The style began in the 1930s, originating in the Southwest and rural areas of the Western states. These plans have generous, open concept interiors, attached garages, split-level floors, and easy connections to the outdoors. 
The modern "twist," on this rather practical layout is the decadent and clean design elements.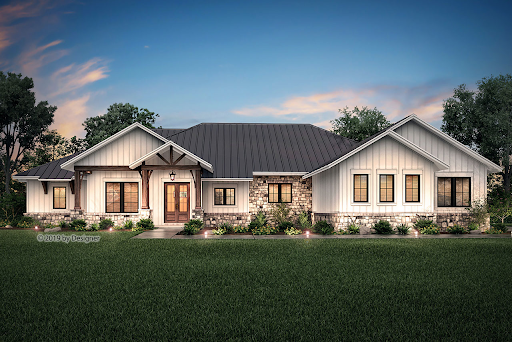 Conclusion
Right now, the demand for homes is quickly outstripping the pace at which a builder can provide new homes. That's why so many families are deciding to skip the waitlists and new releases to build their own homes from scratch. So why not take a page from their book and pick any of these best-selling designs for yourself?
When you're ready to design your dream dwelling, head to Monster House Plans. Our insane inventory of designs and layouts features almost every architectural style you can imagine. Speak to our architects to customize any layout that captures your imagination.