L-shaped homes are all about connection. Style is always important when you're considering home plans, and that's where most homeowners stop. But finding the right house plan for your family is about so much more than just one style over another. Instead, you need to consider whether the overall design, which includes a home's functionality, works with your family's lifestyle.
That's why L-shaped homes are the hidden secret of the house plan world. The unique design helps create an exterior and interior layout of balance, harmony, connection, and privacy. When you can infuse your home with these principles through a house plan design, you'll never want to leave the oasis you've chosen and built from scratch. 
The History of the L-Shaped House
Looking at the letter "L," you can see that two lines are joined together, but one section is longer than the other. The L-shaped home began as an asymmetrical offshoot of the ranch-style home. 
But the highly functional design was so useful, that it quickly adapted to almost every other kind of contemporary home style possible.
The design of these kinds of layouts is so functional that many "tiny home" enthusiasts are repurposing the shipping containers into homes that feature the L-shape design.
An L-shape house plan is so flexible because it's about solving a design problem, rather than capturing a distinct style or design aesthetic.
That's why these home designs work with any architectural style. And you can't trace the L-shape home plan to a specific architect because it's so widely used.
For example, a Mediterranean architectural style of house plan could easily be customized into an L-shape home design.
Five Benefits of L-Shaped House Plans
View the L-shape home designs used in two different and distinct architectural styles. You can see the benefits of the features this kind of layout offers.
Take a look at the L-shape design of a modern farmhouse and that of a plantation house plan.

These two house plans are quite unique in exterior and interior features. However, the layouts of the main floor are similar: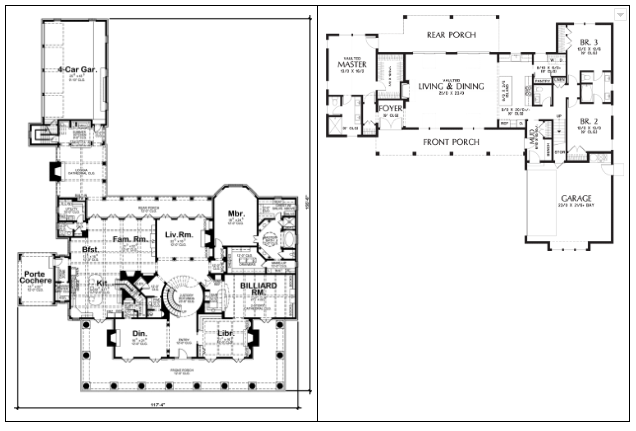 The house plans of the main floor area show how the garage enjoys direct access and connection to the rest of the house, without taking up extra space in the home's design.
Since the plantation style home has more sq ft to play with, architects can also include other functional rooms like a summer kitchen, a mudroom, a laundry room, several built-ins, a pantry, or even a storage closet. 
Upstairs, the added garage area means you can build additional bedrooms to accommodate an extended family. And these are just some of the reasons why L-shape house plans are so popular. 
1) Privacy
Notice how the L-shape layout of these house plans frame the front yard nicely. Meanwhile, the orientation protects the backyard from sight. 
In fact, many homes that use the L-shape design on the main floor will do so because they also want a pool or a private, outdoor space intended for entertaining. Depending on your lot's orientation and sq ft, you can gain privacy with these layout plans.
2) A Balance of Elements
The perimeter formed by the connection between the two lines frames the front yard and protects the back courtyard area. When you look at how the two sides of the "L" arms extend outward, it feels like an embrace. Meanwhile, the front and back yard spaces remain separate from each other, so you can design and landscape these areas as you'd like. 
Inside the home, the intersection point allows you to create a real balance in the sq ft you're using. L-shape plans can feature a garage, certainly, but you can also use the two arms to create a separation between "wings" on the main floor. 
If you're building a 1-story house, for example, one wing might be for the living area, while the other is a sign you've entered into the bedroom- and bathroom area.  
3) Adaptable to
Any
Kind of Architectural Style
L-shape home plans are adaptable to almost any kind of architectural style. You can even adapt it to something like a cottage style home, widening the width and depth to account for how many stories you have or bedrooms you want. 
Essentially, your options around square footage are entirely up to you. You can even add details like skylights, or rely on a mixture of shingle clad domestic forms, brick, wood, and modern glass to get an entirely new and unique exterior to your home.
4) Almost Everything is Linked and Accessible
Of course, there are variations to the "L" design that could add on more sq ft to your home's total area. For example, you could add an extra wing extending out, perpendicular to the shorter arm of the "L." You could use this area as yet another wing for guest bedrooms and bathrooms secluded from street view.
This is more like a "T" design and you can expect the additional sq ft to increase the price as well. But you now have additional exterior free space, almost like an extra front yard space.  
5) Shelter Against Prevailing Winds
The layout of the L-shape design provides more than protection from unwanted prying eyes. The corners and arms that extend out create a buffer against wind, rain, and snow. 
Anatomy of an L-Shaped Floor Plan
The L-shape floor plan's inherent flexibility means you can do almost anything with the exterior and interior features. There are no two homes that necessarily need to look alike when you use this design. 
However, the common features make this home unmistakable.
Exterior Features
You'll see garages featured prominently in the design of these homes. However, it's not a hard and fast rule. Exterior elements commonly include:
Front and back porches

Multiple dormers

Front hip roofs and gables

Multiple car garages

Uninterrupted access from the garage to the interiors

Strong, clean lines
Interior Features
Upon entry into L-shaped homes, you'll naturally experience a more open-concept type layout. Many families opt to use organic or makeshift room separators, also doubling as modern decor, for an almost "loft"-like look. 
Interiors can include:
Open concept living and dining areas

Extended bedrooms over the garage or second arm of the house

Mudrooms and extra storage space

Asymmetrical distribution of sq ft throughout the house

Nooks, pantries, and dens 

A separation between both "wings" of the house
Choose L-Shaped Design On a Floor Plan That's Right For You
If you're looking for true customizability, both inside and out, then the L-shaped home design is for you. When you're ready to view this layout on a diverse array of floor plan styles, visit Monster House Plans. 
Our powerful advanced search should be your first go-to, as you select the specific interior and exterior features you want. Looking for guest bedrooms or a floor plan with a basement and a butler's pantry? Our search will pull it up for you. Monster House Plans is your trusted hub for all things home design.