Dream homes come in all shapes and sizes and when it comes to one's log cabin dream home, there are certainly many options to choose from. Log cabins derive their beauty from the materials themselves as well as by the home's breathtaking surroundings. Log Cabin style homes invoke the rustic and natural beauty of the wilderness and mountain environments while simultaneously bringing a sense of simplicity to the homeowner's life. Many individuals choose to build their log cabin dream home as a vacation or getaway destination for friends and family. However, they later find themselves drawn to the comfort that is evoked by this home style. Log cabins maintain their beauty and only get more alluring as time passes. For this reason, they tend to stay within a family for generations. Building a log cabin home has become increasing popular for families everywhere.
Log cabins have the ability to incorporate numerous appealing details in their design. They can include the most extravagant amenities or be minimalist for a cozy home feel. Here we offer you a glimpse into 7 amazing styles of floor plans for log cabins. We are almost certain one is sure to become your next dream home.
Hybrid floor plans: This style encompasses the combination of log and timber elements within the building process. This design generally will require a more technically savvy plan that focuses on the engineering aspects of the home in order to successfully incorporate both log walls and timber framing. This is a creative and structurally sound style to consider when building your log house.
Ranch house plans: Ranch style log home plans provide a sense of comfort and flexibility that is accompanied with the simplicity found in its traditional elements. This style allows you to incorporate tasteful elements like high ceilings while simultaneously having the option to have a simple, one story build. The ranch style usually incorporates a rectangular design or an L shape that is usually front-faced. This style also usually does not incorporate porches, but is an addition that can be made easily. This design is focused on utilizing all the interior livable space.
Lodge-style log home plans: Lodge-style log cabin homes embody extravagance at its best. This floor plan style incorporates the alluring elements that are usually found in a luxury vacation lodge. The lodge style is ideal for beautifully crafted covered entries, large ceilings, and large windows for natural lighting.
Traditional log home floor plans: This simple yet functional style basically speaks for itself. Traditional log home floor plans are minimalist, inviting, and appealing. This style focuses on the originality found in historical log cabin builds. This home plan is often where many begin their search when beginning to build a log cabin. The style is also completely flexible, should any additional elements be desired for the design. This style will both withstand the traditional and rustic log cabin feel with its interior and exterior aspects.
Single story log cabin homes: Single story plans are perfect fit for large construction lots. This style allows for the interior space to be planned out as broadly as possible. A large lot is ideal for a single story plan, as it allows for fluidity in planning communal and private living space within the home.
Multiple story log cabin homes: This plan allows one to be as creative as possible with interior space. Communal living space and private living space are more clearly delineated in multiple story cabin homes. This style also lends itself to unique building elements such as 1st and 2nd story decks which increase the appeal and value of the home.
Prow style floor plans: This floor plan crafts both wood and glass to make for an eye-catching architectural statement that is both entertaining and beautiful as it incorporates the beauty found within the location. This style is ideal for homes that have panoramic views due to the glorious windowing that creates a wide-open feel inside while also creating a visually appealing exterior.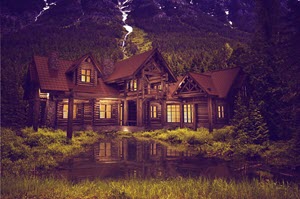 No matter what your preference or style is, it isn't hard to fall in love with one if not all of the many options and styles found in the intimate and welcoming style of the log cabin. From log cabin luxury home plans to simplistic cozy homes, we invite you to start your journey in creating a dream home that will last more than a life time.
Click here to learn about our wide variety of house plans. We're confident you'll find one you'll love!