It's time to stand out. It's time to be unique. It's time to build a barn house. 
A barn home features a style in existence for hundreds of years. Many people used barn house plans for necessity, using simple and sturdy building materials. Barn style design plans are now an ideal home construction project full of personality, craftsmanship, and flair. 
Homeowners looking for function, beauty, and family-friendly features will love barndominium floor plans. If you're one of these homeowners, you'll be happy to learn that this house design, its architecture, and interior and exterior features are very accessible when you're building from scratch. 
Once you construct the basic frame of a barn style project, the rest is up to your imagination. The construction process is uncomplicated and highly flexible, allowing you to create additions like a loft or a basement with ease.
In this article, you'll find a beginner's guide to designing and building the barn house of your dreams, along with barn house floor plans for that spark of inspiration.
The History and Design of Barn Homes
A barn home is a rustic design known for its spacious interior, offering tons of storage space, classic timber exterior, and open concept design. However, today's barn homes were not originally meant to house people. The history of the barn style design dates back to the 1600s as a residence for animals, their feed, and manure.
Today's designs, however, boast creature comforts like:
A loft

Storage space

Beautiful double garage doors

Tall exposed ceilings

Sliding farm doors

Timber beams 
These details make this dream structure the ideal home for you, your family, and your friends.
Barn homes offer excellent square footage, and their charm and flexibility allow you to maximize your site as well as your interior living spaces. 
The design and style of a barn home are highly adaptable. If you like the structure's hallmark design, you can begin construction of a barn home project on any property size.
Pulling inspiration from the "rustic" look and feel of the traditional frame construction, barn house plans adapt the original style to provide ample space and simplicity in the home. 
Most barn homes keep the kitchen, dining room, and living room area connected through an open concept design. Instead, it features the bedrooms, bathrooms, laundry room, and any other room to the side. 
That's why barn homes are ideal for families who want a lot of space indoors for themselves and guests.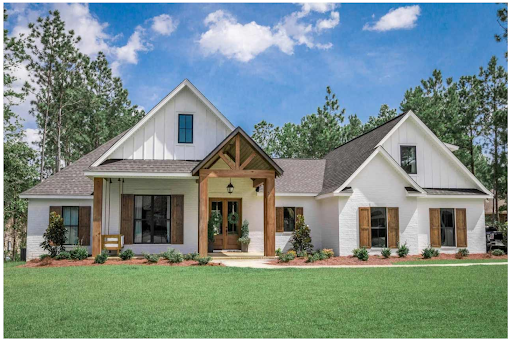 What Goes Into Building Barn Homes?
Undertaking a building project like a barn home is both a rewarding and stressful experience. From finding the right build location to budgeting for your home construction and choosing from barn house plans that will suit your family's needs, there is a lot of information to consider. 
Here are five steps to building and starting construction on the barn style design:
Research and calculate barn house costs

Decide on the best barndominium floor plans

Choose a style that fits your needs

Properly manage your land and space efficiently

Find the right designer
Even though it is exciting and fun to watch your dream house come to life, there are always unforeseen issues that come up. Following these steps will allow you to control and order the process, which will make your barn home building experience significantly smoother.
Step #1: Research and Calculate the Cost of a Barn House
One of the first pieces of information and research to begin with on your project is about costs. The cost of construction, materials, and labor can be very affordable as long as you know what you're getting into.
Once you purchase your building site, you'll need to know the average cost to break ground, lay a foundation, and begin frame construction. The simplicity of these structures can cause many homeowners to wonder: Are barn homes cheaper to build?
The answer to that really depends on your living space's square footage, the barn style's floor plan, and the cost of materials you choose for the exterior. 
In other words, a barn home can be as cheap or as expensive as you make it. If you're using everyday materials like siding, most barn homes can be highly affordable structures, especially when compared with traditional projects.
Let's take a look at the costs for a simple pole barn layout. The chart below details information available for planning pole barn homes, each with its features and costs. As you can see, the price for a post and beam design is the significant amount of space available for a low cost. For example, a 6,000 sq. ft. pole barn home costs about $50,000!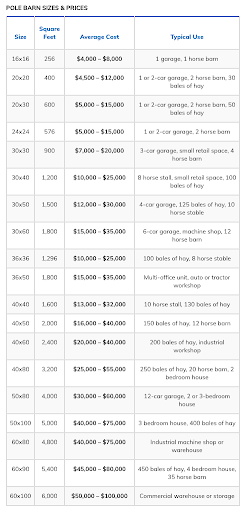 Of course, these pole barns are great for hobbies, machinery, and animals. Still, they are not as conducive to people's original structure to live in and raise a family. 
Even though the post-beam method of construction is intended mainly for farming needs, these values should give you ideas for your costs. It also shows you that, with suitable finishes, layout, and attention to detail, your home can be an investment with high resale value.
So, with some slight adjustments, a pole barn can easily turn into a residence full of warmth and charm. To break down how much it costs to build a barn home, let's take a look at some average costs in America for each aspect of these structures.
The tight housing market in America right now means that competition between buyers can make it tough to secure your dream home. That's why many families chose to build their homes from scratch, instead of overpaying for a residence that may not serve their family's total needs.
While the costs listed here will change for each build (once again, consider material and design factors), a pole barn house is a significantly cheaper option for everyone.
And even though an increasing number of families choose barn houses for their charm, style, and open concept design, affordability is one of its primary benefits.
Step #2: Decide on a Floor Plan That Suits Your Needs
There is an infinite number of options available when designing a barn home. Figuring out which floor plan style is right for you and your family can be a difficult decision. There are thousands of options available, so you need to decide what is most important for your barn home. 
To do this efficiently, begin by compiling a list of ideas that are needs versus wants. Needs are things that your future home must have for you to be happy. Wants are things you would like in your home. 
Having a clear, objective list will make this step in the process easy for both you and your designer. 
So, ask yourself:
Do you want ample kitchen space that opens to the dining room and living room area?
Do you want a smaller indoor space with a large overhang for outdoor space and activities?
Do you want a traditional barn house or a barndominium?
The decisions can be overwhelming. However, when building your barn home, you have the flexibility to build it as you want. So whatever you can dream up, your designer should be able to put it into a plan.
For example, you may decide you want a dedicated media room, plenty of ground floor living room, and you need the location of your stairs to be right at the foyer. 
You may decide that you don't need a basement but large, open windows with lots of light and a porch would be a fantastic addition for that lazy, relaxing lifestyle.
Sorting through the must-haves, nice-to-have, and comfort features first will put you in a great position to review ready-made floor plans then.
Custom floor plans can give you ideas about your dream home's final result before the frame construction begins. Reviewing the layout, finding out how to customize the interiors and living space, and then proceeding to build ensures that you'll land on a frame that truly works for your family.
Consider the interior living area of this basic floor plan:
Based on this sample floor plan, it's clear that your priority is having an open space for entertaining guests and having company over in the kitchen, living room, and large deck. Meanwhile, rooms like the den, master bedroom, and bathrooms are off to the side. These take up significantly less space.
This method is perfect for finding a floor plan that closely matches your needs and then customizing the interiors through an addition here and there.
Step #3: Which Barn Home Style Would You Prefer?
Even in the simplicity of a barn home, the barn house has multiple stylistic options available. You can choose between a traditional barn house, a pole barn house, and a barndominium. Each of these styles have great things about them and some things to consider.
A traditional barn house is a permanent structure and very sturdy. It is typically larger than the other two options. So it's understandable that this style costs a bit more.
A traditional barn house provides a lot of flexibility in design and can last for generations. These homes are quintessential for those looking to have gatherings for family and friends year after year.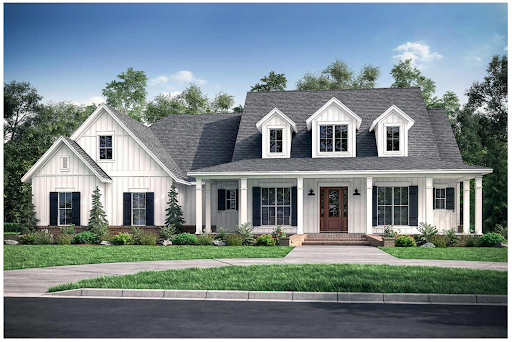 A pole barn house is built differently than traditional barn homes. Instead of a typical foundation, a pole barn house uses poles in the ground to hold it in place. This style choice is quicker and simpler to build, but it does lack the longevity of a traditional barn house simply because it does not have the same foundation. 
A pole barn house is a great option for a family or individual on a budget. These houses can provide the same great amenities and luxury at a fraction of the cost. Most houses have concrete foundations like the traditional barn house. With planted poles replacing the concrete foundation, a pole barn house will save a lot of money.
Barndominiums are a great choice for someone looking to build a uniquely styled home. Barndominiums are approximately the same size as a traditional barn house, but they use metal in the framing and design, whereas a barn house utilizes more wood and stone. These homes are typically cheaper than traditional barn houses and take significantly less time to build. 
Originally, barn homes helped ranchers in Texas stay closer to their livestock and horses during storms and bad weather. This style of home made it easier to check in on the animals because the livestock's living quarters were connected to the main house.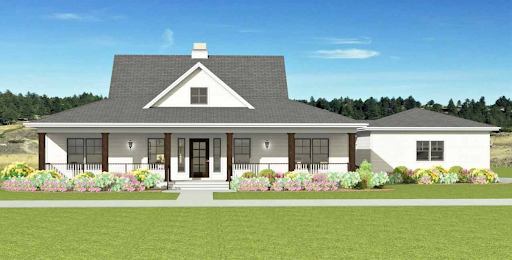 The connected live spaces translate really well to modern-day families looking to settle down. While you may not want livestock near your home, you can design your barndominium to accommodate coverage and protection for your vehicles!
Within these three styles, there are several variations and options available to you. Don't be overwhelmed by the options. Look at this as an opportunity for you to get exactly what you want when building your home.
Step #4: Manage Your Land and Space Strategically
If you want to build a barn house, you are going to need land. You won't necessarily need more land than if you were building another style of home. 
For some homeowners, building a barn house means the chance to build their dream home out in the country, cultivate at least a few acres, and get started with that country life.
The good news is that you can position your barn home to capture sunsets or picturesque views.
However, other homeowners want to enjoy a barn house's flexibility and curb appeal in smaller spaces like urban or suburban areas. 
In other words, the amount of land you are building on will affect your chosen floor plan. This is something to consider when building a barn house. 
The amount of living space you'll need for the interior, compared to how much land remains unoccupied for the exterior, will make a difference when you plan out the maximum square footage.
Step #5: Find the Right Designer for YOU!
One of the most challenging aspects of building a home is finding a contractor or designer you can trust. Finding the right designer can help you translate your imagination and vision into an affordable reality.
When finding a designer for your barn house, you need to find someone who has experience with this style of home. 
While a barn house may be relatively simple in style and approach, there are several options available, so a knowledgeable designer will help you narrow down the details such as:
Windows

Ceilings 

Materials

The roof

Whether you need a basement or not

Options for entertaining 

The length and size of a porch

How many stories you need

Where your bathroom is best placed, and more
If you do choose to work with a designer, opting for Monster House Plans® can bring your imagination to life in a more effective way. 
With Monster House Plans, you can also use the "Ask the Architect" function to ask detailed questions about the plan. This features truly lets the homeowners build their dream house within their budget.
Conclusion
People love flexibility and options when designing and building their homes. Barn homes and barndominiums provide space, quality, and most of all a unique design. What's even better is that building a barn frame and style doesn't have to break the bank.  No matter the size of your site or budget, barn homes are inherently adaptable!
Monster House Plans® will provide you with thousands of options and help you narrow down your search. Their advanced search feature helps you hone in on floor plans specially catered to your wants and needs. So the next time you are looking to buy or build a house, contact Monster House Plans® to get started and get one step closer to your dream home!