What is the difference between a daylight basement and a walk-out basement?
House Plans foundations go by many names. In the case of the daylight or walk-out basements, the difference is simply whether or not you are able to exit the basement to the outside or not.
House plans with daylight or walk-out basements are often both situated on sloping lots. The walk-out basement will be on a steeper slope, so as to allow an exit door to the outside from the basement level. The daylight may or may not have an outside access door, since all parts of the room are often partially submerged below-ground. The daylight basement, however, will have windows to bring in daylight.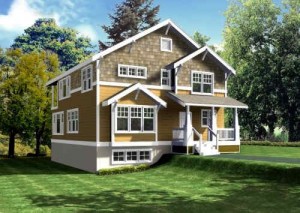 Basement foundations allow for extra living space if needed. When building Floor Plans with basements (regular, daylight or walk-out), it is not necessary to finish the lower level. This can keep the heated square footage down and assist with getting bank loans and keeping property taxes down. The lower levels are unfinished future-space that can be finished as the homeowner has the extra funds to do so.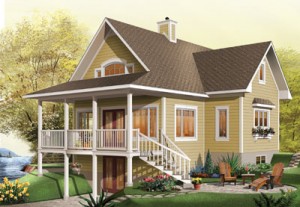 Monster House Plans has close to 3000 plans offering daylight or walk-out basements. Check out our Monster Search to view them. And remember, if a house plan you like does not offer a walk-out or daylight basement, ask us for a quote to modify it for you. Our modification quotes are free!