Today, homeowners are expanding their home's square footage to accommodate growing families. As houses get bigger, so do basements—so much that they're an essential part of many households across the United States. In fact, more homeowners have been converting their basements into finished spaces so they're fit for offices, entertainment spaces, guests, and plenty of extra storage.
If you need that extra space, then creating a finished basement like a daylight or walk-out is a great option. But then the question becomes: What type of basement do you need for your house?
How Homes Evolved to Use Underground Spaces
In ancient times, people needed a place to store their water, wine, and food without fear of getting spoiled. Since ground temperatures are typically much cooler than above ground, the idea of digging an extra floor underground became commonplace. 
At this point, basements were crawl spaces designed for vegetables and other types of food. Eventually, they evolved into cellars, which allowed for standing, walking, and more storage. Later on, cellars evolved into storage for significant home systems, like boilers, heaters, electric systems, laundry rooms, and more. When industrialization became popular in the United States in the 1950s, basements were built into thousands of family homes.
However, geography plays a big role in basements. You won't find them everywhere. In certain areas, basements are rare because of flooding. They are also less common in colder regions because basement foundations needed to be built below the frost line.
Common Types of Basements
Basements can look entirely different from one another. Some may be an untouched, bare space to store necessities, whereas others can be completely renovated into living areas that can accommodate extra bedrooms, bathrooms, offices, and entertainment spaces. Some basements are even used as a studio or one-bedroom rentals in major cities.
"Materials and technology have really improved in recent years," says Michelle Simms, chief operating officer of Terramor Homes. "Now, when you are in the basement, you feel like you are in the rest of the house." 
Depending on the size, standing height, and window or door capacity, different basements can be used in different ways. Let's take a look at some of the most common types of basements in family homes today. 
Crawlspace
A crawlspace is a small space accessible through either a small door or hatch that is only a couple of feet in height. Hence its name, there is no standing room because its sole purpose is to provide limited access to critical systems like plumbing. This makes conversion into a living space difficult and expensive.  
Cellar
Cellars only stretch across a small portion of the home as they are primarily used for cold storage for produce, wine, and preserved foods. Cellars are of standing height, so bringing items in and out for storage is simple.
Cellar (regular basement) vs. no basement vs. crawl space
Unlike crawlspaces, cellars are easy to convert to a living space. Homeowners can decide if they want to turn the cellar into a single room or extend it further underneath the house for multiple areas. However, there may be necessary foundation adjustments if you want to turn your cellar into a daylight or walk-out basement. 
Daylight
Daylight basements are a basement where either half the space is underground while the rest is above ground, or the basement is almost completely above ground. It's common for daylight basements to have small windows or even full-sized windows.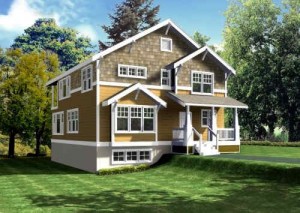 Many daylight spaces are unfinished, but it's not too hard to convert them into comfortable living spaces. You'll have to add electrical outlets, lighting, insulation, paint, and flooring. If you want to add an external door, then you'll have to convert the space to a walk-out basement. 
Walk-Out
Walk-out basements are similar to daylight basements, but they have an external door that leads to the outside. If the basement is partially underground, then a small staircase leads the door up to the exterior ground level. They typically have full-size windows, depending on whether or not half the foundation is underground.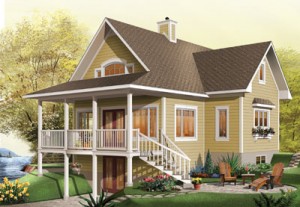 Many homeowners have walk-out basements as a secondary living space that leads to the backyard. If you already have a daylight basement, then converting it into a walk-out basement can be a rather simple project.
The Difference Between Daylight and Walk-Out Basements
Both daylight and walk-outs are basements that may be partially underground. Both can be converted into legal, comfortable living spaces. Both are often situated on sloping lots. So what exactly is the difference? 
The difference is simply whether you can exit the basement to the outside or not. Other than having an exit door to the outside space, these two are essentially the same. 
But does it really matter if you have a daylight or walk-out basement? Here's how one exterior door can make all the difference. 
Daylight Basements
Either entirely or partially underground, daylight basements are a great addition to any home. With daylight basements, all the ceilings are of living height, so you can add bedrooms, entertainment spaces, offices, bathrooms—all while still accommodating any storage space you need for major systems.
Traditional House Plan 53-117
Daylight basements get their name from one main thing, and it's the fact that they bring in more sunlight than other traditional basements, like cellars or crawl spaces. They typically have half-sized or full-sized windows, depending on the foundation height and slope of the property. 
When following proper city codes, daylight basements can be turned into legitimate bedroom spaces. So if you already have an unfinished cellar, then little work must create a house with a daylight basement.
Benefits and Disadvantages of Daylight Basements
Daylight basements are a great addition to any house, and there are plenty of benefits that come along with them. Buying a home or adding a daylight basement allows for more versatility, plus they also add to your home's value and are even less expensive than walk-out basements. 
However, daylight basements have their own set of drawbacks that are important to consider before construction begins. Because of the added square footage, daylight basements can increase your property taxes. There also isn't a separate entrance, and the natural sunlight may vary depending on the home's direction and slope. 
Benefit #1: They Allow for More Versatile Rooms
Daylight spaces allow for plenty of natural sunlight throughout the entire floor, making them perfect as additional living areas or storage spaces. Most homeowners convert their basements into additional rooms, like:
Guest room space

Entertainment areas

Kids' playroom

A practical place for a mechanical room

Extra office space

More closets for storage

Laundry room
Benefit #2: They Add To Your Home's Value
While basements can be considered extra square footage, it does actually vary on the foundation height of your basement. 
"Only finished above-grade areas can be used in calculating and reporting of above-grade room count and square footage for the living space," says mortgage specialist Fannie Mae.
Above-ground basements are typically calculated with ease. Depending on the amount that is underground, many basements add about half the cost of the rest of your home's square footage. So, if your upstairs square footage was between $140 to $200 per square foot, then an above-ground basement may add $70 to $100 per square foot to your home's value.  
Benefit #3: They Are Less Expensive Than Walk-Out Basements
Since daylight basements don't require an outdoor exit, these are less expensive than walk-out basements. Daylight basements are already completely functional if they're partially underground, which means no added excavation or foundation reconstruction is necessary.
Disadvantage #1: They Can Potentially Increase Your Property Taxes
Since basements that are up to code may be considered extra living space, this means that your home's overall square footage goes up. When square footage goes up, so does your home's value—which is a good thing, but that also means that your property taxes may be increased.
There are many ways that your local county may detect a change in your home's value. They may conduct inspections, pull any permit applications from a remodeling project, or even receive reports from neighbors. 
Disadvantage #2: There Isn't a Separate Entrance
Some people prefer combining their downstairs basement space with the outdoors. More often than not, basements are lined up perfectly with backyard spaces. However, daylight basements can't fit an exterior door without significant construction, which takes away outdoor extension capabilities and rental options. 
Disadvantage #3: The Sunlight May Be Limited
Depending on the slope and direction of the home, there may be limited sunlight in the basement. Even if you have plenty of windows, your home's positioning plays a significant role in how much sunlight you'll actually get. So, if your basement windows are facing north, you might get minimal sunlight throughout the year—which might make for a difficult living or working space. 
Walk-Out Basements
Walk-out basements are like daylight basements, but at least one side is either flat or on a steep slope to allow an exit door to the outside from the basement level. They require some type of slope if the basement is partially underground, but it should be simple as long as the outdoor area doesn't need to be excavated.
Mountain Or Rustic House Plan 32-117
Some walk-out basements aren't used for additional living space, but instead of an exterior door for storage and easy installation for major systems through doors called basement bulkhead doors, which allow for easy access.
Benefits and Disadvantages of a Walk-Out Basement
Walk-out basements are nothing like they were 50 years ago when they were mainly used for laundry and extra storage. Today, they're held at the same standard as the other floors in the home, where it's more attractive to have them finished like the rest of the house.
With that being said, walk-out basements are a great addition to any home. They can add value to your house, offer rental potential, and connect you to outdoor living spaces. It's also good to keep in mind that walk-out basements may also increase your property taxes, require a particular slope to build on, and are more expensive than daylight basements. 
Benefit #1: They Add Value to Your Home
It's not uncommon for walk-out basements to be called "the ground level" rather than a basement. This is because they're treated like an extra living space—which is also why they're generally more attractive to homebuyers.
This means that walk-out basements add extra value to your home. You already know that walk-out basements may be below-grade level (partially underground) or above-grade level area (on the ground floor). A good rule of thumb is that below-grade level spaces cost about half of your home's square footage price. If your main floors are about $150 per square foot, your basement's square footage would be $75. This also means that above-grade basements will be considered the same square footage cost as the rest of your home. 
Benefit #2: Walk-Out Basements Offer Rental Potential
Renting out a finished basement is a great way to generate extra income or get a fast return on your home purchase. Walk-out basements allow your tenants to have their own entrance so that there is plenty of privacy. 
The best part? If you decide to rent out your basement, then may be eligible for a 20% tax break!
But to rent out the basement, you'll need an egress. An egress is a building code term that means "exit," which essentially means that there needs to be two separate exterior doors in the unit. An egress can be either a door or a window. One will be used as the main entry and exit, while the other is there for emergencies. 
Benefit #3: They Connect You to Other Living Spaces
One of the best features of walk-out basements is that you can enter and exit without going through the house. This can be helpful for privacy reasons, but it can also connect you to outdoor living spaces, like the backyard or patio.
Contemporary House Plan 5-872
This contemporary floor plans shows that the lower level (left) is a walk-out basement connecting to the outdoor patio via sliding doors
For many, walk-out basements are great for teen hangout spaces because it gets extended into the backyard. "For parents of teens, the house on a cul-de-sac with a walk-out is gold," says Craig Vermeulen, vice president of operations at William Ryan Homes' Wisconsin division.
Disadvantage #1: There May Be an Increase in Property Taxes
Adding more square footage to your home, unfortunately, also increases your property taxes. This is because as your home's value increases, your property taxes will, too. It's a good idea to run your numbers through a tax assessor to get an idea of how much your taxes may increase before starting your walk-out basement project. 
Disadvantage #2: They Require a Certain Slope
If the excavator needs to remove soil to add the exterior door to your basement, this will be a major added expense. So, while adding a walk-out basement may be an option on homes without steep enough slopes, the project will be more feasible on properties where the land already naturally slopes down toward the house's back.
Disadvantage #3: They Are More Expensive Than Daylight Basements
Since walk-out basements require a certain slope, it's normal for these types of construction projects to be more expensive because of potential excavation.
Walk-outs are also more expensive to build in cold climates because deep footings are required.
Which One Is For You?
When you're purchasing a home or floor plan, you have to consider tons of features—with one of the essential ones being the type of basement you want. So before you choose between a daylight or walk-out basement, ask yourself how you'll use this space, whether it's for:
Guests

A secondary living space

Renting it out

Storage

Laundry

Activity, like a home gym or workshop
If you want to use your basement for rental opportunities, then you know that you'll have to upgrade the space so that it's up to code for inhabiting, like building an egress. But if you plan to use it for extra storage or an office, then perhaps adding an exterior door isn't as important.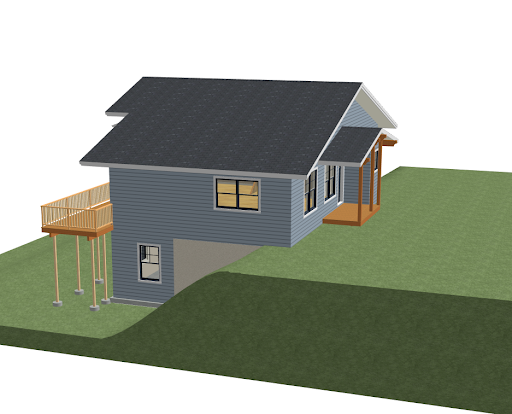 As shown in this model, there needs to be a significant slope to add a walk-out basement
You'll also need to consider your property's slope. Walk-out basements won't work for every home, so be sure to research whether or not a walk-out is plausible and if excavating those several extra feet is an expense you can afford. 
Conclusion
Both daylight and walk-out basements are a great addition to any home. They can both offer extra play space, workspace, and storage space. But adding that one exterior door can make all the difference in functionality and cost, which is why it's essential to weigh your wants against your needs so that you can make the right decision.
The good news is that Monster House Plans has close to 3000 plans offering daylight or walk-out basements. And if a house plan you like doesn't provide a walk-out or daylight basement, you can get the plan modified to your liking. All modification quotes are free, so start your search today!