Written by Business Journal staff
Wednesday, 15 September 2010 10:59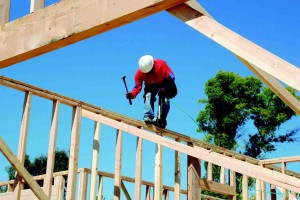 The latest building permit report by Construction Monitor shows that single-family home building in the Central San Joaquin Valley crossed the $300 million mark by Sept. 9.The weekly publication says this year in the region, 1,693 single-family housing permits were granted with a value of $303,992,369. Centex Homes remained the lead builder with 132 homes being erected this year at a value of $22,718,469.K. Hovnanian Homes and Wathen-Castanos Inc. each had 117 homes being erected this year, the former with a value of $19,241,323 and the latter with a value of $18,075,020.

Commercial construction was up only slightly from the previous week, the report said, with a year-to-date project value of $230,805,920.
At MonsterHousePlans.com, be believe that the best is yet to come.  All we need to do is stop reading the headlines about doom and gloom and focus of those things that are positive in all of our lives.  This is still a great country filled with great people that are capable of amazing things.  We will pull ourselves out of this like we have in the past.