Tired of serving the traditional macaroni salad at your backyard bar-be-que, this classic from Pasta and Co. is a brilliant deviation. Make ahead and keep in the fridge the day before if you're short on time.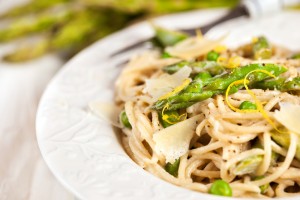 Ingredients:
1 cup olive oil
¼ cup freshly squeezed lemon juice
3 cloves garlic, peeled and run through a press
1 teaspoon red pepper flakes
20 grinds of fresh pepper- preferably green peppercorns
3 tablespoons whipping cream
1 pound fresh pasta
1/3 cup Myzithra cheese, grated
¼ cup Parmesan cheese, grated
1 cup chives or green onions, finely minced
½ cup fresh parsley, finely chopped
2 cups frozen peas, thawed and drained
2 cups blanched asparagus tips, cut no longer than 2 inches
Additional green onions sliced on the diagonal for garnish
Directions:
In a large bowl, mix together olive oil, lemon juice, garlic, red pepper flakes and ground pepper, and whipping cream. Set aside.
Cook pasta al dente in salted boiling water. Drain and rinse with cold water. Toss the pasta in the dressing and allow to cool at room temperature. Gently fold in the remaining ingredients and serve with additional green onions for garnish.