It couldn't be easier to infuse your grilled shrimp with tons of flavor with this easy marinade. Your backyard entertaining just got kicked up a notch!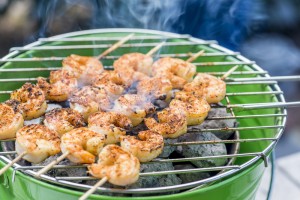 2 lbs. shrimp, uncooked, deveined, with tails on
Large resealable plastic bag
1 onion, finely chopped
1 cup peanut oil
2 tbsp. Cajun seasoning
1 tbsp. garlic, minced
2 tsp. cumin
1 tsp. rosemary
1 tsp. thyme
Wood skewers, soaked in water
Mix all ingredients in a small bowl. Place shrimp in the plastic bag and pour marinade over. Refrigerate for 2 hours or so. Bring the grill to medium heat. Thread shrimp on wooden skewers and grill 5 to 7 minutes, turning and basting frequently with the rest of the marinade.  Serve with Cajun butter for dipping.
Cajun Butter
½ lb. melted butter
1 tsp. basil
1 tsp. tarragon
1 tsp. Cajun seasoning
½ tsp. garlic powder
2 to 3 drops Tabasco sauce