Always a crowd pleaser, pulled pork can be prepared the day before and warmed on the stove top or in a crock pot before serving. Use hoagie rolls for full sandwiches, King's Hawaiian dinner rolls for excellent sliders, or, as the Pioneer Woman suggests in this recipe, serve with tortillas and lime wedges.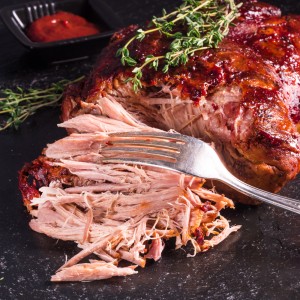 Ingredients:
One 5-7 pound pork shoulder
1 whole onion, cut into quarters
1 tablespoon chili powder
1/2 cup brown sugar
4 garlic cloves, peeled
1 teaspoon dried oregano
2 teaspoons ground cumin
1 to 2 tablespoons salt, or to taste
freshly ground black pepper
3 tablespoons olive oil
2 tablespoons white wine vinegar
Directions:
Preheat the oven to 300 degrees.
In a food processor, combine the onion, chili powder, brown sugar, garlic, oregano, cumin, salt, pepper, olive oil, and vinegar. Pulse until totally combined.
Pour the mixture over the pork and rub it in well, covering every accessible part.
Place the pork into a roasting pan or Dutch oven and add 2 cups water. Cover tightly and roast for 6 or 7 hours, turning once every hour.
Check to make sure it's fork-tender. Increase the heat to 425 and roast uncovered for 20 minutes or until the skin gets crispy. Remove from the oven and allow the pork to rest for 15 minutes.
Shred the meat, using two forks to pull it apart. Place the shredded meat on a large platter lined with lime wedges.
Pour the pan juices over the shredded meat. This will ensure that the meat stays extra tender.
Serve with warm tortillas
Here at Monster House Plans, we offer a wide variety of house plans. We're sure you'll find one you'll be excited about!