We offer many types of house plans that we're sure you'll love. We work hard to provide you with a mix of classic and modern designs.
Among the trends in contemporary home design, specifically, is a return to "the Old Ways", and families are once again including a keeping room in their modern house plans.
For Colonial houses, architecture was highly focused on function over aesthetics. Life was hard, seasonal weather changes caused major shifts in lifestyle, and the demands on early American settlers were high. Houses at that time were highly influenced by English and European trends, but materials were limited to what could be found nearby and luxury was a thing of imagination. These sturdy folk built homes to withstand intense weather; exteriors favored stone and brick, and the floor plans only included what was absolutely necessary- usually small homes designed around a central keeping room. Excess in design would not come until many decades later, when affluence begins to gain footing American culture.
But in these early years homes were sparse and industrial, providing shelter and warmth and working space for families who toiled relentlessly, often in conditions unimaginable to us now. Modern house plans have evolved in countless ways and show the influence of the wide world we now live in. Creativity has taken hold in architecture, and our homes reflect the freedom to imagine and to design spaces with aesthetics in mind, instead of mere function.
Learning From the Past
In many parts of the country those old Colonial homes still stand, and we can look to them for inspiration. As modern life gets more and more hectic and divided, we see a hearkening back to the way people lived before all this distraction started affecting our families. Among the many trends in contemporary home design is a return to "the Old Ways", and families are favoring a nod toward simpler times and natural architectural features. We see this demonstrated strongly in the return of the keeping room to modern house plans.
The keeping room originated in the late 1700's. Located just off the kitchen the keeping room, or hearth room, featured a large fireplace and was often the only room in the house to be heated. It served as a gathering place for inside work and food preparation. During cold winter months, inside chores would be done here, and often families would all sleep together by the hearth for warmth. In larger Colonial homes, older children would often sleep in an upstairs attic, located above the keeping room, where the heat from the fire would warm the room upstairs.
Modern Keeping Rooms
While design ideas are infinite, the one element that traditionally makes this space a keeping room is a fireplace. In contemporary homes, the keeping room serves still as a gathering place for families often divided and multitasking. Also useful for those who have a tendency to entertain, the keeping room acts as a spill-over space for guests who naturally gather in the kitchen while final meal preparations are being seen to. For families with school age children, this room can be a place where homework is finished and school projects are completed. With its close proximity to the kitchen and, often, to other rooms in an open floor plan, this space is well connected to the rest of the house, providing a feeling of inclusion and comfort.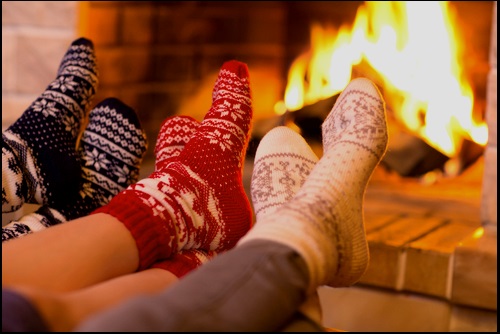 Design Features
This is typically a space of coziness and simple decoration. Many families choose to have this room be (relatively) technology free; the flat screen, media equipment, gaming consoles, and other screen activities are often placed in other rooms, like a family or game room. Instead, the keeping room will typically be focused on conversation or relaxation. A subtle docking station for music players might be the only tech gear present. Overstuffed arm chairs and a wide, low coffee table encourage a coffee break hangout; simple slip-covered parson's chairs, bookshelves, and occasional tables make a perfect after-dinner gathering space.
The key to the keeping room is that it is a flexible space intended for people to move through and about the room as comfort indicates. Avoid clutter and complex décor, and opt instead for comfy, casual, easily approachable embellishments. This is a room that can be designed entirely based upon how you use it, so feel free to break the so-called rules. Do what feels comfortable to your family. This is a place that should draw people towards it, so go with comfort over exhibition.
Include A Keeping Room in your Custom Home
A keeping room often becomes the center of a household, anchoring family members to a core gathering space. To get started, use the Advanced Search option to filter house plans with keeping room or hearth rooms already included. Don't see one you like? Talk to the architect about the plans you like; many bonus rooms and flex spaces can be adjusted to easily adapt into a keeping room to give your modern dream home a touch of the Old Ways.