The pull of convention affects us all. Sometimes we just get so used to things being a certain way that it takes a strong wind to redirect our visions to something better suited to our needs. But this is the beauty of working with a custom design for your dream house: the options are truly limitless!
My favorite expression of this lately has been the rise of the contemporary laundry room in unusual places. No longer relegated to the mud rooms and basements of American houses, washers and dryers are starting to make an appearance in the more highly-trafficked rooms of the home: bathrooms, walk-in closets, or laundry rooms placed on the second story between bedrooms.
Ultimately, the chore of maintaining your family's laundry is time consuming and tedious. The clothes basket can get heavy, the folding gets interrupted, sometimes there isn't enough space to spread out. Regardless of whether there is one person in your family responsible for the laundry, or if its a rotating chore, having a contemporary laundry room set-up designed for function rather than tradition will make a huge difference.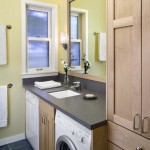 And with the advent of front-loaders, you can now feasibly put a washer and dryer anywhere that makes sense to your routine. Build a nice long counter top above the appliances and you're all set with a folding area.
I think my favorite so far is the laundry room in the walk-in closet. How easy would it be to remove dirty clothes right into the wash basin? And then, once the dryer finishes its cycle, clothes go right onto hangers or into the bureau? Genius.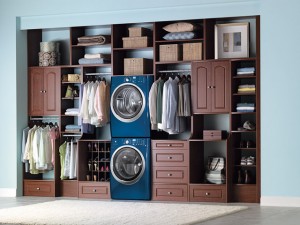 Another popular option is locating the washer and dryer into a closet slightly bigger than the traditional linen closet on the second floor of the home. Situated between bedrooms perhaps occupied by older children who are responsible for their own laundry needs, this set up is highly functional for a busy family and is an efficient use of space.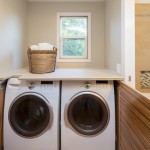 However you move through your home, consider the spaces that could be designed differently, or could work better for you. This is the single most important benefit in choosing to build your home: the ability to create spaces based on what works for you, rather than being tied to the standards of the masses. Talk to your designer about your ideas; they are excited and willing to help your project manifest into the perfect home for you and your family.