Why buy store-bought when you can impress your guests with this homemade sauce packed full of flavor? Make up a batch of this ahead of time to let the flavors meld together. It'll keep in a jar in the fridge for about a month.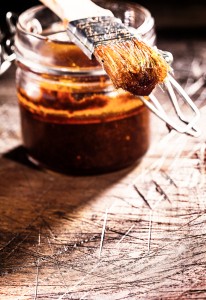 1 ½ cup honey
1 cup ketchup
1 6oz. can tomato paste
2 cloves garlic, minced
2 tbsp. lemon juice
1 tbsp. cocoa powder
1 tbsp. curry powder
1 tbsp. paprika
1 tbsp. soy sauce
1 tbsp. Worcestershire sauce
2 tsp. Tabasco sauce
1 tsp. cayenne pepper
Combine all ingredients in a small saucepan. Bring to a boil, then reduce heat to low and simmer for 20 minutes. Makes about 3 cups.