When you think of a scene from a storybook, what do you think of? For many people, it seems that the image of a cottage or cabin nestled in the woods somewhere is what first pops into their mind. Often, this is a log cabin, rustic and beautiful with a charming atmosphere that both comforts a person and fills them with awe and mystery.  This is a beautiful picture and one that can fill you with nostalgia about your childhood, a time when you were so transfixed and enchanted by stories like Little Red Riding Hood, and Hansel and Gretel that you wished you could be in them. Once you are an adult, it is hard to get that feeling back. But what if your home in real life was modeled after one of those log cabins? What if you could have the ideal blend of the novelty of a traditional cabin with the convenience of modern features inside? If this idea appeals to you, then it probably wouldn't be a bad idea to look into modern day log floor plans that could make this fantasy become a reality!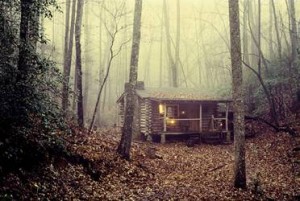 Whether you live in an urban area of a city or own your own acreage miles away from any city life, the unique escapism you could feel living in a log home could be a priceless addition to your daily life. However, you wouldn't want it to feel like too rustic of an experience either. You don't want to feel like you are camping every day. Comfort is a major thing that one should look for in a home. Well, if the look of a traditional log cabin appeals to you, but you don't want to have to worry about living in something shabby, then you no longer need to worry! With modern Log home Plans, you can design a state of the art living space.
You might wonder how it works. Well, many modern day log home plans come in kits, which are already drawn, and include modern day conveniences. Through the use of these kits, you can create a home that is comfortable, efficient, and reflects your style, while still maintaining the novelty of having a rustic, log cabin-like appearance. Plus, you will save money on architectural fees because the plans are pre-designed anyway! The logs that are used to build the home are usually already grooved to accommodate electrical wiring. They will also protect your home from unruly weather and unwanted insects. You can even get log home plan financing if you so desire, making this a convenient and cost-efficient option for almost anyone!
With log home plans, you are bound to be happy with the house you end up creating. Certainly, you won't be the bitter and malicious villain of the fairy tale, but instead the prince or princess, happy in your enchanted throne, which can range in size from cabin-size to the size of a mountain lodge. If you want to stick with tradition, but give it a modern edge, then a log home plan from us is the right way to go for you!
Click here to learn more about the variety of house plans we have to offer!